Electrical
Overview
Residential
Commercial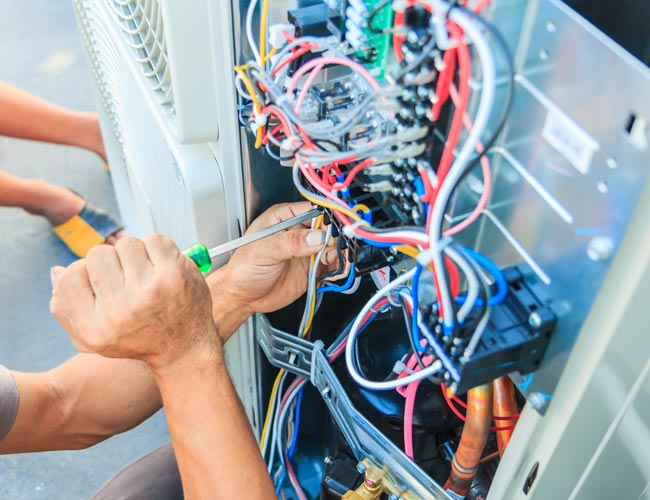 Electricity Made Easy with Our Renovation Specialists
If you're planning a home renovation or are working on an industrial site, you need an expert electrical team. Our electricians are on hand and ready to solve all of your issues across Sydney. From that tricky wiring around the home to top quality commercial installations, our attention to detail and transparent pricing makes us the number one choice. 
Our general bookings cover everything from renovation to rewiring and are guaranteed to meet the excellent standards of master electricians. 
We are also available 24/7 for emergency service call outs and you can rely on our team to be on time, friendly and clean. When we leave your location, your brighter lights and safer wiring will be the only sign that we have been there at all. 
Our Professionals are Here for You
At Thrive Electrical, we strive to offer efficient and affordable electrical services that are built on a commitment to communication. We build long-lasting relationships with our clients that are based on both excellent service, and professional advice.
 We're only a phone call away and are ready to meet all your needs, whether it's a big job, or just some guidance. So call us now or fill out our online form and request a call back today. One of Thrive's expert electricians will contact you soon. 
Enhance Your Home with Residential Electricians
Whether an urgent power outage is making life uncomfortable or you have some new appliances you would like installed, Thrive electrical are here for you. We are experts in a range of electrical jobs around the home.
Sydney's Northern Beaches are a great area for renovations, and we can assist you with all the electrical elements of your makeover. As established renovation electricians, you can be sure that our team can work your schedule and provide quality results.
Read more about our residential services or contact us to get started.
We Have Your Commercial Work Covered
Businesses have electrical needs too, and our experienced commercial electricians can help you at work. We understand that electricity means more than keeping the lights on. It's usually essential to keeping your business running.
That's why we offer reliable installations and fast responses in the event of breakdowns and electrical emergencies. From warehouses to restaurants, we can keep your business on track. See the difference with our commercial services now.
Explore our website for a full range of commercial and residential services, or contact us today for great services and quality results.

Residential Electrical
From Rewiring to Switchboards – Speak with Our Renovation Experts
We understand that electricity in your home is all about convenience. Whether it's money-saving LED downlights or restoring comfort after a power outage, our expert electricians can help you. We have extensive experience helping with a full range of electrical jobs around the home, making us the go-to electricians for many households throughout Sydney.
From industry-leading equipment to dedicated and friendly staff, we are equipped and ready to help you today.
Affordability and Reliability for You
It shouldn't cost a fortune to turn back on the lights. That's why we offer free on-site consultations that usually result in an on-the-spot quote. We're up front with all of our prices and are dedicated to giving you the earliest availability to compete the job.
Call us today for assistance in these specialities and more: 
LED downlights
New power points
Emergency power faults
Phone, data and CCTV
Home renovations
Rewiring
Switchboard upgrades
Save Money and the Environment with LED Downlights
Even if you live on the sunny Northern Beaches, an effective and affordable lighting solution is a must. With huge energy saving benefits and brilliant light output, LED downlights are the best option for any home.
We can install these stylish and affordable fittings for you. Mention our website and we'll even replace every 7th fitting free, so count them up and give us a call.
New Power Points Mean Greater Access
Need access to electricity everywhere in your home? Our professionals can safely install new power points for you. A professional job is essential for ensuring the safety of your home and your family, so call us for a free quote.
Quick Relief After Power Faults
Electrical power faults can happen in every home, old or new and we know how inconvenient they are. We are experts in finding faults and fixing them, meaning convenience and safety for you and your family.
If we can't fix your fault or find a suitable solution we'll even pay for a contractor who can. Our experience and ability speak for themselves, so contact us for 24/7 emergency relief.
Connect Your Phone, Data and CCTV
We can take care of all the electrical work involved in hooking up a new phone, your internet or even CCTV. Enhance your home with extra communication and security today.
Specialist Electricians for Your Home Renovations
Thinking of renovating your home to add value, space or a new look? With many years of experience in residential renovations, we can take care of the electrical work for you. Our excellent communication and Master Electrician accreditation means you can be sure that we will work around your needs and provide superior results.
Rewiring and General Electrical
Of course, we offer all the usual electrical services at a great quality and a competitive price. We can take care of general electrical replacement, rewiring and much more.
Switchboard Replacement and Upgrades
A modern switchboard should be clean, well labelled and most importantly wired safely. We can make sure that your switchboard protects your family from dangerous electrical faults. We replace and upgrade systems so they trip in the case of an electrical shock hazard in 0.4 seconds giving you that added peace of mind.
For any of our residential services, call us on (02) 4307 6834 or fill out or form for a free quote. Contact us today!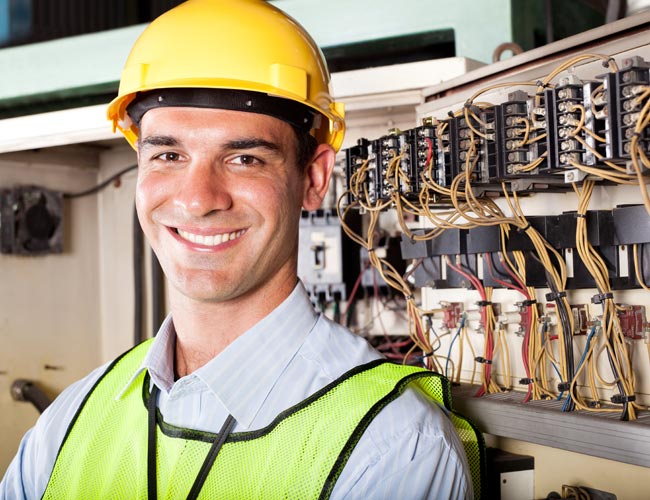 Commercial electrical
In the workplace, electricity is everything. We understand that if there's an electrical fault or breakdown at work, it can damage your reputation and your bottom line. That's why Thrive Electrical offers fast and reliable business installations and electrical repairs. 
From office renovations to warehouses, factories, cafes, restaurants to schools, we have the experience and the skills for all your commercial needs. 
Our Commercial Specialities
Commercial electrical work comes in all shapes and sizes. Maybe you need excellent audio-visual equipment installed to wow your new clients or maybe you just need greater overall security. Whatever your needs, we offer a range of services and specialities. These include: 
Office Fit-Outs
Hospitality Electrical
Data/Phone
Access Control and CCTV
Industrial Circuits
Office Fit Outs and Communication – For More Power and Greater Capability
The ability for businesses to quickly and efficiently complete all their work is essential. That's where electricity and our office fit outs come in.
 From new office floor plans, power, phone and data provisions, to high end audio visual installations we are experienced and available to assist you in making the right decisions from right from the beginning.
We pride ourselves on our communication, so you can be sure that we will be there when you need us, guiding you and helping you to maximise your business potential.
When it comes to commercial office electrical and data needs, there's nothing we can't handle. Fill out our online form now to arrange a free, on-site consultation.
Hospitality Electrical
It's not hard to get a great meal around Sydney's Northern Beaches but it can be demanding to keep it all running. From commercial kitchens, to cafes bars and restaurants, we can help you with all your electrical requirements.
Thrive Electrical are experts in all appliance circuits, LED strip lighting, task lighting and power faults. We understand things can go wrong and when they do they are prone to happening in peak trading periods when power outlets can be under the most strain. Thrive are on hand to support you 24/7 and get you back in action with the least impact to your trading as possible.
Keep an Eye Out with CCTV Technology
One of the most important elements for any business is their security. For monitoring staff productivity, watching deliveries and just adding some peace of mind, CCTV can help you observe the running of your business while you are off-site or simply busy elsewhere. 
We can tailor a package and install your CCTV solution for you. We'll come to your site, understand your requirements and implement your technology. 
Powering Your Industry
It takes a lot of energy to power industrial equipment so it's important to get your installations right the first time. Thrive Electrical carefully research what you are installing and arrange the most suitable and cost effective way possible to run and supply power for it. You can trust for with all your industrial machinery circuits and control. 
For any of our quality commercial services, call us today on (02) 4307 6834 or fill out our form for a free consultation.